16-Mar-2008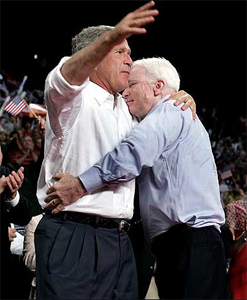 To those who have said that if their favorite doesn't win the Democratic primary, they're voting for McCain I say this:
Seriously? Seriously? You find the campaign tactics of [Hillary/Obama] more repugnant than the positions of John McCain, the John McCain who:
Title X, the federal program dedicated to the provision of family planning services
legislation requiring insurance coverage of prescription birth control and providing more women with prenatal health care
making "abstinence-only" programs medically accurate
You'd vote for that John McCain?
:::boggles:::
Not me. I love my country more than I hate [Hillary/Obama].
More here: