Mill City's Boomtown Buffoon
Rottweiler
March 13, 1988 - May 10, 2000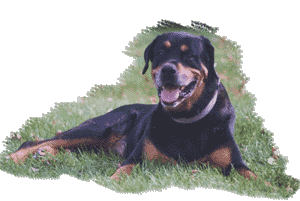 In a way, I'm not the right person to eulogize Boomer, because he lived with Marty before I did, and he never forgot it. A dog is yours when he shares all your jokes and Boomer's jokes were Marty's. But I like to imagine that many of their best laughs came at my expense.
For instance, I'm the dog training enthusiast in the family; Marty will do exactly as much as is required to mold a dog into something he can live with and consider the job done. So imagine the mirth whenever I asked anything of Boomer in Marty's presence and Boomer would look first to Marty to see whether he really had to obey before doing anything. And it didn't end there.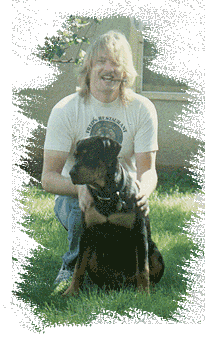 Boomer was a natural comedian who repeated whatever his master laughed at - like holding me down and forcibly licking my face. Or barking in a demanding tone when I'm trying to concentrate on something else. Or walking in as s-l-o-w-l-y as possible when I called...
This joking was just one example of what a master he was at playing both ends against the middle. As imtimidating as a Rottweiler might seem, he was an extraordinarily gentle dog. He disliked direct confrontation, preferring to make an end run around a problem whenever possible, which made him the diametric opposite of our other dog at the time, my first Doberman, Grendel, of whom he made ingenious use for his own purposes.
Grendel was a bitch, in every sense of the word. She didn't take guff and for her a day without a bit of violent confrontation was like a day without sunshine. She wielded pack authority with an iron jaw and took no prisoners, a fact which was not lost for long on any visiting canine. One such occasional visitor was a friend's Wolfhound whose exhuberant, somewhat erotic affections fell to Boomer once Grendel's opinion of such attentions had been made devastatingly clear.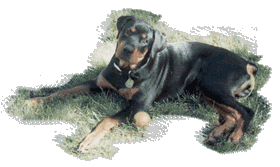 Boomer wasn't the sort to bite another dog, however, even when pressed, even when a young upstart tries to mount him for the hundredth time. What he did do, however, was use his chest as a battering ram to bowl his horrified suitor into Grendel, with predictably painful results. Subtle and effective revenge.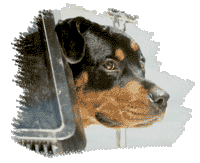 And Boomer was pretty good at the revenge business. He had an over-developed sense of fairness, in fact, and resented any punishment that seemed, to him, excessive for the crime. He also did not believe that humans outside his immediate family necessarily wielded authority over him.
Once, when a housesitter meted out strong (and deserved) correction for food-guarding, Boomer showed no resentment at the time, but at bedtime, the friend found that our mature, housebroken dog had climbed onto the bed and peed on his pillow!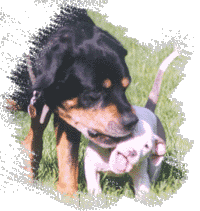 He did things his own way and worked best when he thought something had been his idea; he didn't care to be forced into anything.
Boomer was a tolerant and self-confident dog, and an ambassador for his breed. In a decade punctuated by troubling reports of canine violence, Boomer stood out as an example of the nobility and class that should characterize the Rottweiler.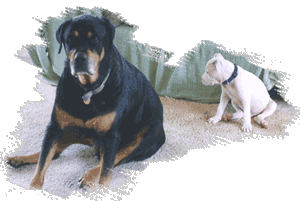 Guests found him friendly and almost doting in his attention while his intimates observed that he was strategically placing himself between family and stranger. The best watchdog, in my opinion, is the one that no one thinks would ever harm a soul. Boomer was such a dog.
Boomer was a dog's dog and a lady's man. He was miscreant and minion. He was The Dog of Eternal Stench.
He was our Big Dog.